Nepal
Only 76 percent of Nepalese people have access to electricity. Despite vast hydro power resources in Nepal, a general shortage of electricity has resulted in massive scheduled power cuts. Moreover, there is a significant urban-rural disparity, with about 94 percent of city dwellers benefiting from a connection compared to just 61 percent of the rural population. With no major fossil resources, people in rural areas still rely heavily on traditional sources of energy, and many use kerosene lamps and candles for lighting. Firewood has a large share in cooking energy, stressing the country's forest resources. The shortfalls in the power supply curtail opportunities for education, quality health care, and access to information as well as the potential for income generation. EnDev supports grid densification and micro-hydro projects.
Technologies used in this project
Grid

Hydro mini-grids

Improved cookstoves
Country data
People with access to electricity: 281,196*
People with access to improved cooking services: 108,309*
SI´s with access to modern energy services: 814*
SME´s with access to modern energy services: 3,725*
*Target achievements until December 2019
Approach
EnDev Nepal follows four approaches to provide electricity to rural communities: The country project supports the National Rural Electrification Programme implemented by the national utility (NEA) for grid extension. EnDev signed a grant agreement with NEA to partially finance grid extension to Rural Electrification Entities (CREE) through loans to communities. The repayment of these loans from the communities to NEA turns into a revolving fund for CREEs. EnDev provides organisational, technical, and financial support to the CREEs that manage electricity distribution within the community, and provides all necessary training to employees to operate as independent village utility. In total, 49 CREEs will be supported within the scheme. Since 2016 NEA's revolving fund can be scaled up for connections of additional CREEs and for the densification of household connections in already electrified CREEs – but only, on the basis of proven repayment into the revolving fund and of proven re-investment of the fund for this purpose. With this results-based initiative also households can be connected that had initially not been able to afford the connection costs.
The second component supports the efforts of remote communities to gain access to electricity from micro hydro power plants via a dedicated debt fund: The Micro Hydro Debt Fund (MHDF). This enables the communities to repay the high upfront costs over a long period of time and encourages commercial banks to finance micro hydro projects in rural Nepal. The MHDF is aligned with the new multi-donor funded National Rural and Renewable Energy Programme for the energy sector in Nepal. 22 micro hydropower plants which received funding from the MHDF are already in operation, feeding mini grids. In addition, Improved Water Mills Electrification is implemented by SNV on behalf of EnDev to upgrade improved water mills to generate 3-5 kW electricity for mini grids. 16 water mills are completed so far.
EnDev Nepal supports CREEs to engage in productive use promotion of grid electricity, in order to enhance sustainability of CREEs. This is conducted in cooperation with Helvetas Swiss Intercooperation and the National Association of Community Electricity Users Nepal. Enterprise development and employment generation is promoted through training of personnel with business affinity in various entrepreneurial skills.
The fourth project component is a result-based financing facility on improved cookstoves, implemented by Practical Action Nepal, led by EnDev.
Learn more about EnDev´s approach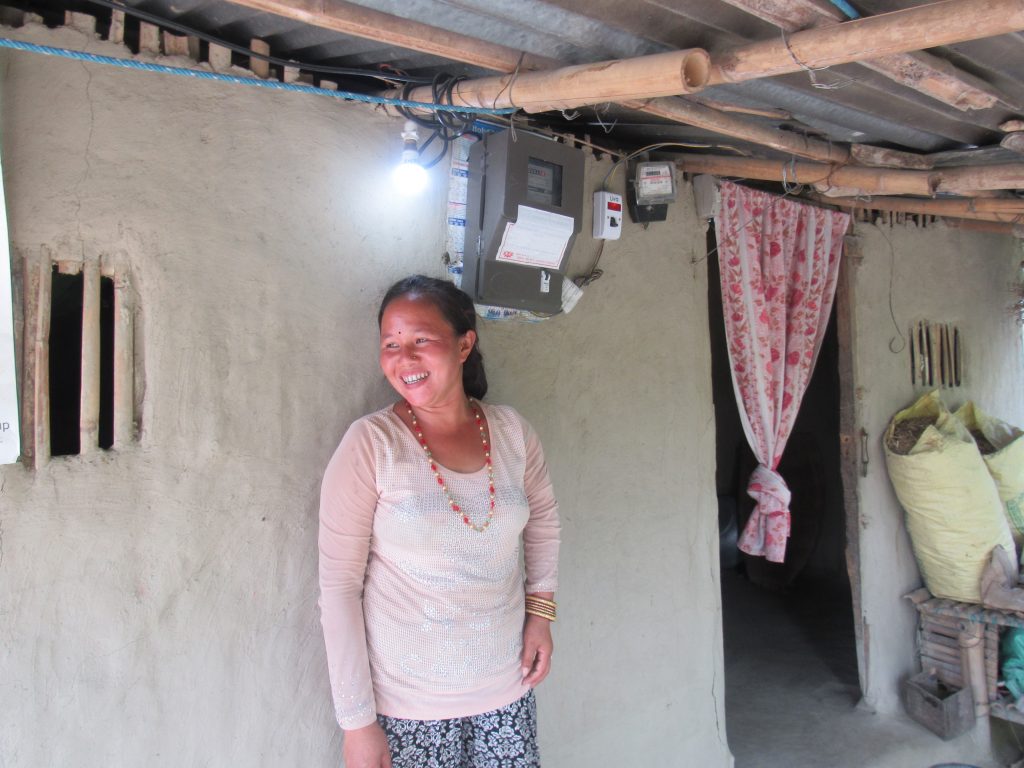 Further information
For more information on the energy situation in Nepal see energypedia.