E-waste management: EnDev's pioneering work in Benin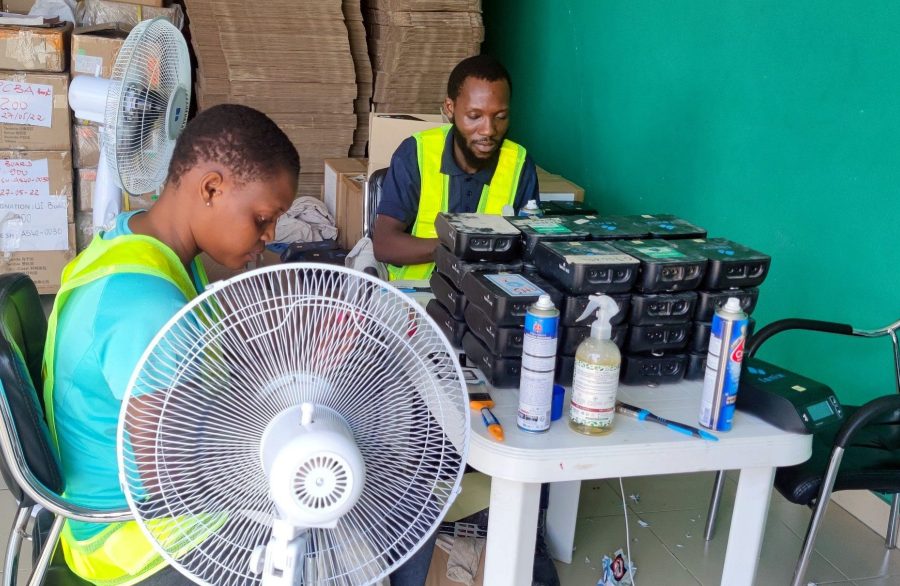 EnDev supports the development of a national plan for solar photovoltaic (PV) electronic waste ("e-waste") management in Benin. To this end, EnDev implements pilot projects for collecting and recycling solar PV e-waste, thanks to EU co-financing. The aim is to effectively engage and reinforce the private sector to develop the PV e-waste value chain.
In Benin, solar PV capacity is expected to grow considerably as part of the National Policy for the Development of Renewable Energies (called PONADER).1 However, given the limited lifetimes of PV components, safe End-of-Life (EoL) management is required to ensure sustainability (contributing to SDGs 3, 7, 11, and 13) and avoid negative impacts on the environment and human health. Therefore, EnDev is supporting the Ministry of Energy in developing a national strategy for PV e-waste management. The support consists of three key steps.
A country-wide baseline study and analysis of international experiences
A baseline study conducted with the support of the Öko-Institute showed that there are growing volumes of PV imports and resulting e-waste generated in Benin. While solar companies can repair and reuse components from faulty equipment, the lack of formal recyclers and a regulatory framework meant that EoL equipment is simply stored or abandoned in nature by users. This gives an upper hand to the informal e-waste sector which offers cheap solutions without consideration of health or environmental impacts. Thus, stakeholders agreed on the urgent need for action towards a safer management of this waste stream.
Developing a national strategy for PV e-waste management
Building on the baseline study, EnDev will support the Ministry of Energy in developing a national strategy for solar PV e-waste management. The design of this strategy will engage all stakeholders and will include technical, organizational, and regulatory specifications for sound management of PV EoL equipment.
Implementing pilot projects
To test and improve the practicability of the national strategy, pilot activities will be implemented to support the private sector for the collection and recycling of volumes of PV e-waste, based on the Extended Producer's Responsibility (EPR) principle, as well as support for innovative ideas and awareness raising. These pilots will be funded with EU co-financing.
On the global scale, Benin was also a pilot country in the development of the EnDev co-authored measures catalogue, which provides guidelines for policymakers and operators for designing and conducting waste-related activities in energy access projects.
1 The growth is expected from 60 MWp in 2021 to 450 MWp by 2030.