Mali
In recent years, two energy agencies have been established in Mali. The special agency for bioenergy ANADEB and an agency focusing on renewable energy (AER) – with the support of multiple donors and NGOs – contributed to the enhancement of electricity access in the country. However, still only about one third of the Malian population has access to electricity. In rural areas, electrification rates are even lower than in cities. To ease the situation, EnDev Mali supports the erection of communal battery charging stations to provide basic electricity services to households. In its current project phase, the project also sets up mini grids in some bigger villages. In Northern Mali, EnDev has successfully established street lighting in major roads.
Technologies used in this project
Improved cookstoves

Solar mini-grids

Stand-alone systems
Country data
People with access to electricity: 24,552*
SI´s with access to modern energy services: 184*

SME´s with access to modern energy services: 64*
*Target achievements until December 2019
Approach
Over the last seven years, EnDev Mali focused on PV-driven communal battery charging stations to provide basic electricity services to households, assuming that the national grid will not be available in rural areas for a long time to come. The stations remain property of the communes. These select a private service provider which operates the facilities on fee-for-service basis. EnDev also provided stand-alone PV systems to electrify communal social infrastructure (schools, health posts, city halls and solar street lights) and improve the service delivery of local administrations. For this, EnDev designed pilot mini grids and the accompanying business plan, and obtained permission for required tarification. Fees charged for communal services (health care, schools and administrative costs) are partly deposited into revolving funds to cover the running costs for maintenance and replacement, which is carried out by the charging stations' service provider.
With declining prices of PV panels over the last years, people that previously could just afford a battery, now often can afford a PV panel too, thus creating their own individual energy supply. EnDev consequently reoriented its focus and facilitates distribution of small PV devices (so-called picoPV: solar lanterns and small plug-and-play individual systems), aiming to promote a basic distribution network for quality solar products and installations in rural Mali. This approach includes the lease-purchase of SHS and their components, in which the system will eventually become property of the leaseholder. Training is included in order to improve existing and to create new installations.
The battery charging stations that were erected earlier convert over time into profitable multi-service energy kiosks which will further promote the sales of picoPV products. They are also going to diversify their product range by adding electric chargers, fans, lamps, and by adding additional services through a solar fridge and AC connection. The energy kiosks are moreover expected to turn into 'knowledge centres' where operators are trained in handling and maintaining installations.
In its current project phase, the project sets up solar-diesel hybrid mini grids in some bigger villages as a pilot for possible other hybrid installations or transformations of existing unprofitable diesel mini-grids. Last but not least, EnDev also plans to implement activities in post-conflict areas of Northern Mali, specifically in the region Gao.
Learn more about EnDev´s approach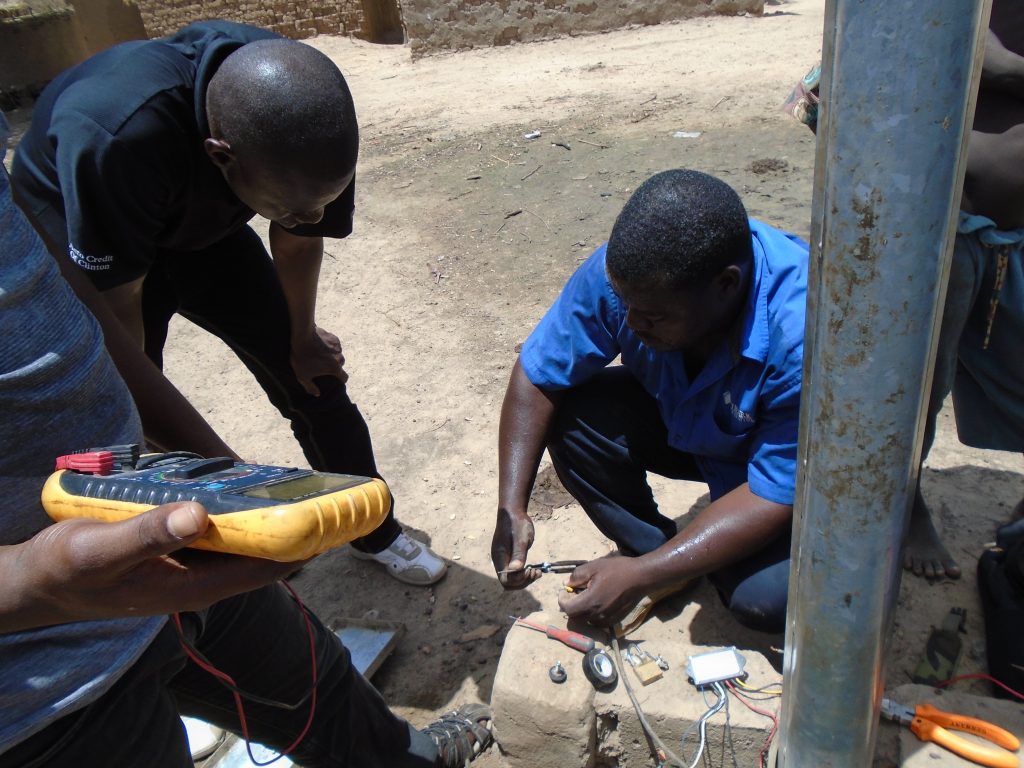 Further information
For more information on the energy situation in Mali see energypedia.