Ethiopia
In Ethiopia, about 60 million people do not have access to electricity and about 100 million people cannot use clean cooking methods. Thus, a major part of the energy consumption comes from biomass, leading to a deforestation that exceeds sustainable yields by far and has negative environmental impacts. To address these issues, EnDev Ethiopia promotes household electrification through pico photovoltaic and micro hydro power plants as well as the dissemination of improved cookstoves. It is co-funded by further additional donors such as the European Union.
Technologies used in this project
Hydro mini-grids

Improved cookstoves

Stand-alone systems
Country data
People with access to electricity: 620,480*
Access to modern cooking energy: 899,623*
SME´s with access to modern energy services: 3,918*
SI´s with access to modern energy services: 2,564*
*Achievements until December 2021
Approach
EnDev Ethiopia promotes household electrification through pico hydro power and micro hydro power plants, by providing technical assistance and introducing appropriate low-cost designs for hydro power. The country project trains local scouts to promote hydro power and assist municipalities in identifying and developing suitable sites for new plants in rural areas as well as old water mills that can be rehabilitated and upgraded. EnDev provides financial resources to cover parts of the investment costs. The local community contributes with civil works, such as constructing the canal or the headrace, installing the penstock, and building the machinery house and roads. EnDev selects the personnel to do the installation of the machinery, the supervision of the civil works and the wiring. Partners from local institutions were sent to Indonesia to be trained in turbine manufacturing. The country project also promotes a feed-in tariff law.

EnDev Ethiopia promotes and finances the hardware and installation of PV systems at rural health centres. The tables for the panels, the panel frames and the installation material are produced or bought locally. Local companies are responsible for the installation and maintenance of PV systems. The country project trains solar technicians and technicians from the regional health bureaus on simple repairs and trains the users in proper use and maintenance of the system, in cooperation with partner organisations.

EnDev Ethiopia supports the dissemination of improved cookstoves (ICS) to reduce fuel consumption by raising awareness and establishing a network of stove producers. It also helps with stove business start-up and provides marketing support by training local stove producers and fostering marketing local marketing campaigns. A results-based financing (RBF) scheme is being piloted to foster ICS dissemination to rural areas through agricultural and energy cooperatives in the two regions of Oromia and Tigray. This RBF scheme shall encourage cooperatives to engage in the ICS retailing business to rural households. Further, EnDev supports firewood planting by communities and the private sector and offers capacity building in technical and business management of energy experts working at different structural levels (government, NGOs, private sector).
The Ethiopian Ministry of Water, Irrigation and Electricity is the lead partner of the project. Other national partners of EnDev Ethiopia include the Ministry of Environment, Forest and Climate Change, the Minsitry of Health and of Education as well as the Regional Energy Bureaus.
Learn more about EnDev´s approach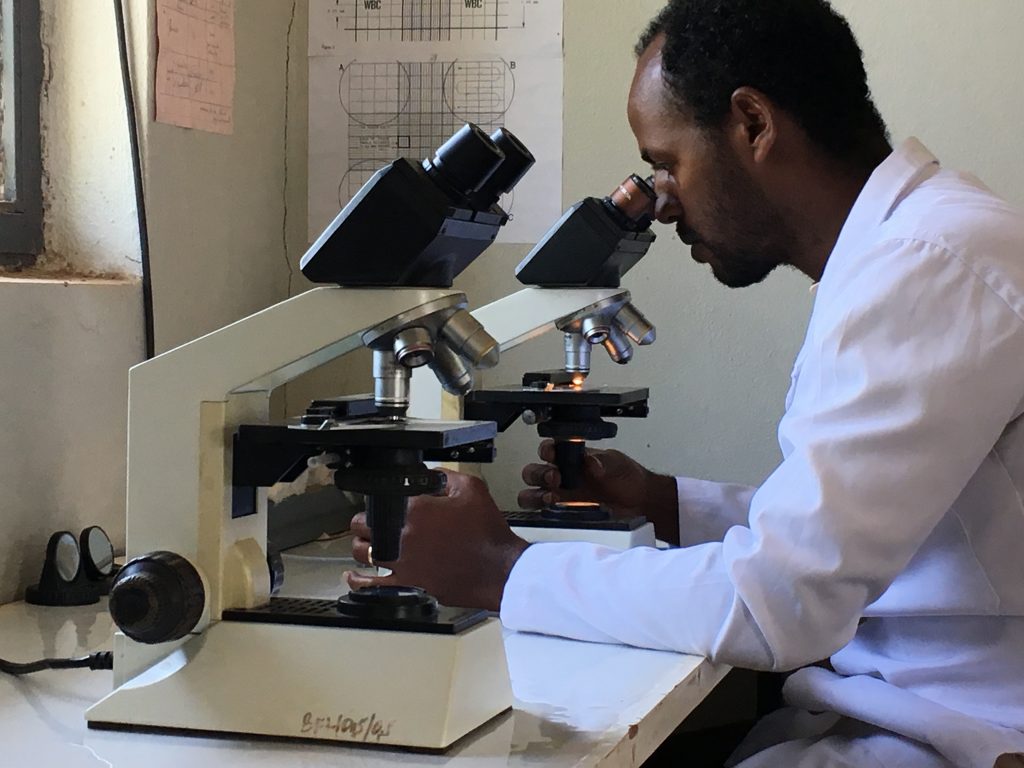 The European Union support to EnDev Ethiopia
In 2017, the European Union Delegation to Ethiopia together with the Government of Ethiopia, agreed to fund existing EnDev Ethiopia activities with an additional budget of EUR 10.35 million. Find the press release here.

The European Union (EU) support provides solutions for a wide range of demands in Ethiopia. The support will be directed towards developing and growing the market for modern for modern renewable energy technologies and services as well as energy efficiency solutions. The joint action focuses on equipping social institutions with solar power, upgrading water mills to micro-hydropower plants and strengthening local markets for solar lanterns, improved cookstoves and biomass briquettes. With the additional funding from the EU Delegation to Ethiopia and EnDev core donors, lower income households, social institutions and small & medium-sized enterprises in Ethiopia will gain better access to energy from renewable sources.

With the extra resources from the EU and EnDev core donors, around 500,000 people will be reached. 100 social institutions, predominantly rural health centres and schools, without access to electricity from the national power grid will receive solar power technology to run their facilities and technology. In addition, measures will help establish 100 production sites for enhanced manufacturing of cookstoves, which can be used for cleaner cooking in rural households normally dependent on firewood. 1,100 improved cookstoves will be made available to social institutions and 2,000 sold to businesses. 240,000 improved cookstoves will be manufactured to go on sale – accompanied by targeted promotional activities. The EU support in Ethiopia will further strengthen the commercial distribution of quality solar power systems leading to sales of 100,000 solar lanterns and 1,300 solar home systems to households and businesses. Further, 30 traditional water mills will be upgraded with technology for renewable energy, enabling the socio-economic development of rural communities. The federal and regional governments will significantly contribute to the implementation and funding of hydropower mini-gird constructions.

Since 2005, EnDev has contributed to 1.2 million people gaining access to modern cooking energy and providing a further 433,000 with off-grid power to Ethiopia. 487 social institutions and 3,400 enterprises have been connected with modern energy solutions. The action with the EU contributes to the National Electrification Programme, launched by the Ethiopian Prime Minister on 27 November 2017. Furthermore, the project's objectives are aligned to the Government of Ethiopia's Climate Resilient Green Growth Strategy and its second Growth and Transformation Plan and the Sustainable Development Goals (SDG), especially Goal 7 for affordable and clean energy.

The Ethiopian Ministry of Water, Irrigation and Electricity is the lead partner of the project. Other national partners of EnDev Ethiopia include the Ministry of Environment, Forest and Climate Change, the Minsitry of Health and of Education as well as the Regional Energy Bureaus.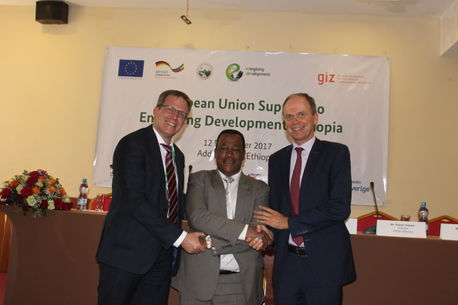 Sustainable energy for smallholder farmers in Ethiopia, Kenya, and Uganda
In January 2021, the IKEA Foundation in partnership with EnDev began promotion of PUE in the dairy and horticultural value chains in Ethiopia, Kenya and Uganda with a total budget of EUR 8 million.
The project focuses on solar technologies and services for irrigation, cooling and drying for smallholder farmers in dairy and horticultural value chains to achieve increased productivity, improved nutritional outcomes, higher incomes, and improved climate-resilience and food security. The project will identify and pilot scalable, innovative solar business cases for smallholder farmers and related local businesses. In addition, smallholder farmers, agri-businesses and renewable energy enterprises will receive access to solar energy solutions and technological know-how. EnDev will ensuring the transfer of experiences from Kenya and Uganda to Ethiopia with systematic activities for cross-country exchange and learning.
This project is co-financed by the IKEA Foundation, an independent philantropy focused on creating brighter lives on a liveable planet through its grant giving efforts.
Further information
For more information on the energy situation in Ethiopia see energypedia.