Increasing biodigester functionality for clean cooking in Kenya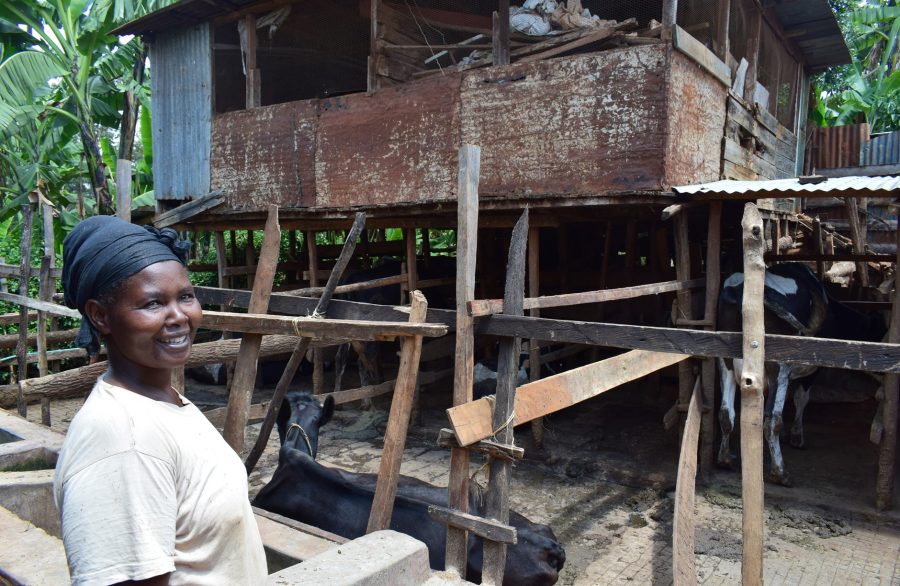 The African Biodigester Component (ABC), one of EnDev's associated projects, commissioned a study showing that 82% of the domestic biodigesters installed in Kenya are functional. As the project wants to reach an ambitious quota of 90%, the study provides valuable insights and perspectives on the issue of functionality.
Over the past 10 years, biodigester companies have constructed and installed over 21,000 small scale biodigesters in Kenya. The Kenyan ABC programme aims to support the creation and sustainability of this market. A crucial aspect is ensuring the functionality of the technology. While biodigesters have enormous potential to play a central role in promoting access to clean cooking and improving agricultural productivity, non-functional biodigesters are endangering the reputation of the whole sector. Thus, the ABC programme commissioned a study to assess the functionality of biodigesters in five counties across Kenya.
In a nutshell, a biodigester is deemed functional when producing gas for cooking and/or lighting, as well as bio-slurry as organic fertilizer. Important to note is that functionality depends on different parameters linked to the installation as well as to the respective feeding process.
On the other hand, there are two types of non-functionality: technical and non-technical. Technical non-functionality is mostly due to the gas piping system (41%) and leakages of the gas chambers (17%); non-technical reasons include lack of enough feedstock (26%), poor maintenance by biodigester owners (8%) and loss of the person managing the biodigester (8%). Overall, the study finds that 82% of the domestic biodigesters are currently functional – and are mainly used for cooking of which 71% daily.
What comes next: The study not only gives an overview of the status quo but provides clear recommendations for the ABC programme to reach its ambitious objective of reaching 90% functionality:
develop basic capacity of farmers on minor maintenance and repairs to reduce reliance on biodigester enterprises' technicians,
develop a specific curriculum on biodigester feeding and the use of bioslurry and bioslurry derived composts to improve the biodigester efficiency and business model,
improve biodigester enterprises' communication channels, especially on prompt and timely redress of concerns and calls from farmers for maintenance to reduce reputational risks for them and the sector as a whole.
Download
About the African Biodigester Component
Funded by the Dutch Ministry of Foreign Affairs (DGIS), the Danish International Development Agency (DANIDA) and the European Union (EU), the African Biodigester Component (ABC) aims at facilitating a shift of the biodigester market from its pioneering to the expansion phase. The component is implemented by a consortium between GIZ and SNV in cooperation with the Africa Bioenergy Partnership Limited (ex-Kenya Biogas Programme).