From darkness to light: EnDev tackles energy poverty in refugee settlements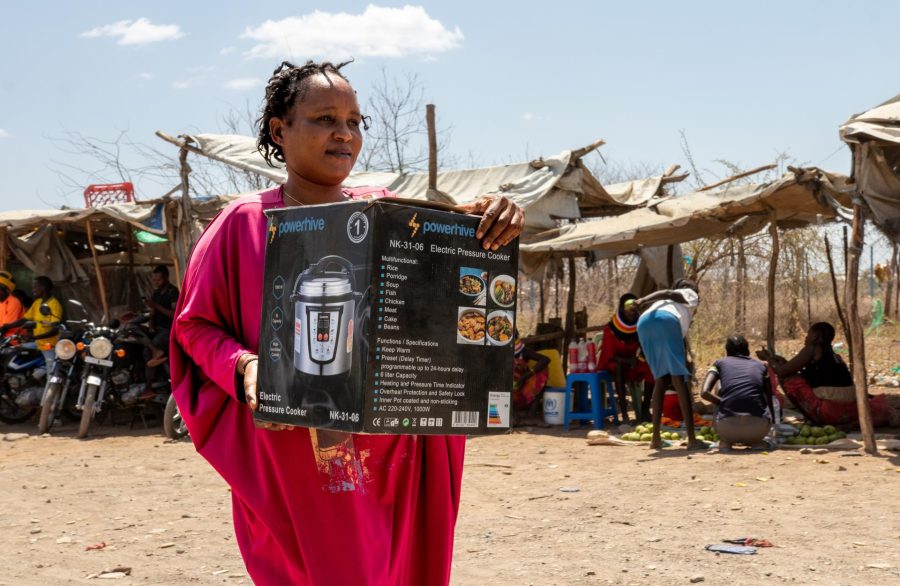 Today's World Refugee Day reminds us that more than 100 million people are currently on the run due to unbearable living conditions in their home countries (see latest UNHCR report). EnDev supports more than 20 countries, of which many have significant displaced populations as a result of conflict or natural disasters.
Here, refugees often live for long periods in remote shelters, where there are few to no opportunities to earn their own income. Quality of life is often poor, people frequently have no access to energy or depend on harmful energy sources. Therefore, innovative and affordable solutions are critical in providing the most vulnerable with electricity, improved cooking technologies, clean drinking water, and economic opportunities.
Leaving no one behind at the heart of EnDev
In 2022, over 72,000 people in displacement settings gained access to modern energy. But this is not where it ends: until 2025 EnDev strives to reach additional 6.0 million people – one third belonging to the most vulnerable people , including refugees, and  a specific focus on women.
EnDev supports access to electricity and improved cooking solutions for displaced populations in 12 countries. Today, EnDev wants to shed light on two interventions:
Closing the affordability gap in Uganda through Demand-Side-Subsidies
Uganda is a country with an estimate population of 47.2 million and is hosting over 1.5 million refugees. While the country has implemented strong and progressive refugee policies, including integrating refugees into host communities, energy poverty remains disproportionately high. The affordability of off-grid solar solutions and energy efficient cooking technologies is a major impediment in these areas, with households' ability to pay being three to four times lower than the national average.
EnDev's Demand-Side Subsidies (DSS) pilot in Uganda will benefit both refugees and host communities as well as other vulnerable rural areas by lowering end consumer prices for quality-certified products including solar lanterns, solar home systems (SHS), improved cookstoves (ICS), and higher-tier cooking (HTC) solutions. EnDev will utilize a results-based financing (RBF) modality to channel subsidies via companies to targeted end consumrs through verified price reductions. All sales will be verified prior to disbursement to ensure that subsidies reach the intended target group dependent upon consumer price reduction and verification of eligible sales and other milestones.
This pilot is part of the larger Energy Access through DSS component which is implemented by Energising Development (EnDev) and funded by the Directorate-General for International Cooperation (DGIS) of the Netherlands Ministry of Foreign Affairs. The component will pilot DSS approaches in Liberia, Malawi, Niger, and Uganda targeting vulnerable populations unable to afford energy products with the aim to close the affordability gap for up to 1 million beneficiaries, who are currently unable to access commercial off-grid solar and cooking markets.  
Promoting e-Cooking in Kakuma refugee settlement
Kakuma refugee camp is located in the north-western region of Kenya. Most of the 258,000 people living in and around Kakuma still cook with firewood. This has dramatic impacts on health and the environment. With access to electricity in the settlement through a solar-powered mini-grid system, EnDev introduced electric pressure cookers.
Watch the video about EnDev´s impact in one of the largest refugee settlements:
Further information