Margaret Wambui: A more efficient cereal business  
In Kenya, electric cooking makes an entrepreneur's life easier — and safer.
Just a few kilometres away from the long and winding Thika Superhighway that leads to Ethiopia, Kenya's neighbour to the North, lies Ruiru within Kiambu county. This area, one of the fastest developing and industrial sub-counties in Kenya, is home to the entrepreneur Margaret Wambui.
Margaret is a cheerful young lady wearing a pink apron with a matching cap. At the beginning of the year, Margaret invested in an Electric Pressure Cooker (EPC) from Burn Manufacturing – a company supported by EnDev. She shares: "Since I bought this EPC, I have received many guests and customers as they are impressed with my business model and that I am using electricity to cook despite the tough economic times in our country."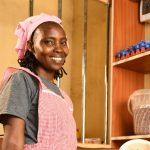 Margaret Wambui
Ruiru, Kiambu county, Kenya
A 38-year-old mother of three, Margaret is a businesswoman selling dry cereals, cooked cereals, eggs, and charcoal. She has tried her hand in several types of businesses, but in 2022, she decided to move to selling cereals. Initially sceptical about electric cooking, the soaring charcoal prices compelled her to explore alternatives for her own business. When introduced to the EPC by the Last Mile Entrepreneurs (LMEs) from Burn Manufacturing, she seized the opportunity.
Currently equipped with one EPC, Margaret has aspirations to acquire another, catering to her growing clientele. She elaborates: "I remove chaff, clean the cereals, and cook them for my customers who wait between eight and 30 minutes, depending on their order. From green grams and maize to beans and peas, I offer a diverse range of boiled cereals." Margaret cooks a significant quantity of cereals every day, which translates to a substantial income, especially on weekends when her customers are home.
The EPC has made her life easier, affording her not only more quality time with her family but also a cleaner shop environment. By eliminating the need to handle charcoal during cooking, it has ushered in a cleaner and safer atmosphere. She can now comfortably have her baby by her side at the shop, free from concerns about charcoal-related burns: "Work is better, more efficient and I am at peace as I can work and take care of my baby while at it."