Jamal Uddin: A stove that changes more than the way of cooking
In Bangladesh, millions of improved cookstoves have a positive impact on income and health.
55-year old Jamal Uddin has had a passion for food his entire working life. Even back in the Bangladesh Army, where he served for 25 years, Jamal worked in the kitchen. In 2014, he left the army and opened his own restaurant in Nabinagar, a short distance from Bangladesh's capital. The area's 50,000 inhabitants work in small businesses and garment factories. Jamal works from early in the morning until late at night so that his restaurant Bismallah can meet the demands of his hungry guests.
However, he still found it hard to save enough money to provide his family with a good living and his four daughters with a decent education. One of his main expenses was for fuel: he spent the equivalent of 15 euros per day on gas cylinders. Jamal also used two traditional biomass cookstoves, an inefficient cooking method, which produced large amounts of smoke and was a health hazard for his employees.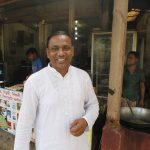 Jamal Uddin
Restaurant owner
Nabinagar/Bangladesh
The improved cookstoves save firewood and money
In 2018, Jamal made some changes that would have a big impact on his business. He learned about improved cookstoves and replaced his older cookstoves with two Bondhu Chulas – a Bengali term meaning "friendly stove". The improved cookstoves operate by burning biomass more efficiently, saving firewood and money. Studies show that 95 percent of its users report significantly less smoke in their homes, leading to an improved health of the residents, with fewer eye infections and respiratory diseases. With EnDev's support, more than 2.6 million improved stoves have been sold in Bangladesh between 2005 and 2019. Improved cookstoves are marketed and sold by more than 5,000 local enterprises. EnDev Bangladesh organises trainings for these enterprises and offers financial schemes to make the production and sale of stoves more attractive.
With my Bondhu Chula stoves, I am able to save money and grow my business as a result.

Jamal Uddin
The stoves paid for themselves within a month
With his two Bondhu Chulas, Jamal started to cut costs: While his traditional stoves needed 95 kilogrammes of wood each day, the Bondhu Chulas only required 55 kilogrammes. But it was by minimising the use of his gas stove that he saved the most money. Before, he would go through two LPG cylinders per day, frying and cooking food for his restaurant. Now, he only uses gas to cook small fish and one cylinder lasts three days. Having paid the equivalent of 180 euros for both Bondhu Chulas – the stoves paid for themselves within a month.

He explains: "With my Bondhu Chula stoves, I am able to save money and grow my business as a result. I opened two new food shops, hired people and serve more customers. I feel good about the fact that I am not only saving fuel, but also have a clean cooking environment. Previously, I used to get complaints about the smoke, but now there is less pollution and my customers and employees are happy."