Indonesia
EnDev was operational in Indonesia for a full decade from 2009 to 2019. The Directorate General of New
and Renewable Energy and Mineral Resources as part of the Ministry of Energy and Mineral Resources
jointly with EnDev have been able to improve the lives of thousands.
Technologies used in this project
Biogas

Hydro mini-grids

Solar mini-grids
Country data
People with access to electricity: 295,607*
SME´s with access to electricity: 2,959*
SI´s with access to electricity: 3,832*
*Achievements until December 2019.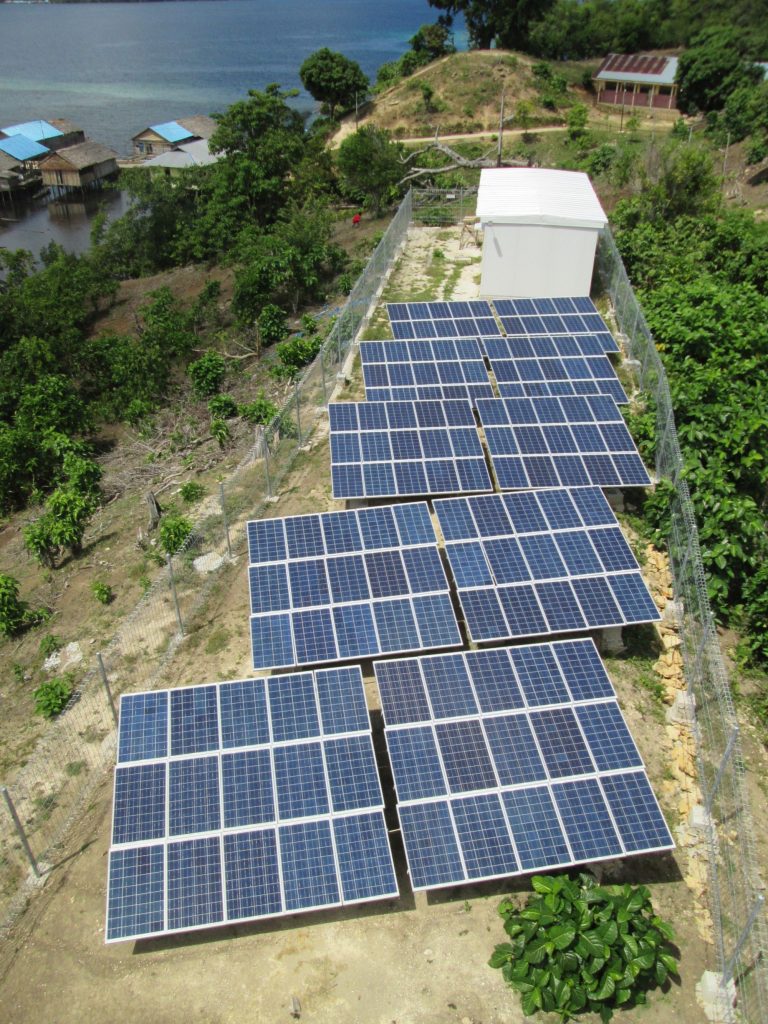 Learning from leaving: Exit evaluation of the Mini-grid component
EnDev supported the Government of Indonesia to achieve its target for rural electrification through the installation of renewable energy mini-grids mainly based on micro hydropower and solar PV.
EnDev supported 1,034 mini-grids with measures such as
• Technical assistance and policy advise
• Capacity building through training, mentoring and workshops
• Encouraging entrepreneurial skills for rural business owners and mini-grid managers
• Promoting a sustainable monitoring approach and respective methods ,
All the supported mini-grids are community managed. The electrification component has been implemented in partnership with the Indonesian Government especially with the Directorate of New and Renewable Energy and Energy Efficiency under the Ministry of Energy and Mineral Resources that was established in 2010. In addition, EnDev Indonesia has collaborated with provincial governments, local communities, universities, companies, and NGOs.
Key findings from the Exit Study in Indonesia were that even though the Mini-grid sector is currently stagnant, EnDev's intervention has had a positive impact and that basis for improved sustainability is present. Knowledge products remain accessible online for all to use. This includes the lesson learnt and recommendations for Mini-grid projects globally.
The independent evaluators conclude that EnDev has been a relevant supplement to the existing Mini-grid promotion in Indonesia until 2018, when the Ministry of Energy implemented a new strategy. In terms of sustainability, the vast majority of Mini-grids in Indonesia cannot cover long-term costs for operation and maintenance themselves and access to spare parts is a challenge in remote locations. However, the basis for improved sustainability of the Mini-grid sector is present. Based on the findings and conclusion from Indonesia, the evaluators propose three recommendations for Mini-grid components in other countries:
Improve the methodology for monitoring the impact of capacity-building activities
Improve the vocabulary for policy impacts and transformative changes
Optimising person-carried impacts in program design and planning
While the EnDev mini-grid component has phased out in Indonesia, EnDev continues to engage in the mini-grid sector in several other countries.
The closing of EnDev Indonesia in 2019 marked the maturity of new and renewable energy sub-sector in Indonesia. It shows through the achievement of high electricity ratio in Indonesia, reached more than 98% in 2019, where renewable energy has an important role in benefits the communities in remote areas and local industrial growth.

F.X Sutijastoto; Director General of New, Renewable Energy and Energy Conservation
Did you know?
EnDev conducts independent evaluations of its phase out countries both at the moment of exit and two years after closing. This way, EnDev evaluates the sustainability and impact of its activities as well as market development.
Read the full closing report:
Interested in reading the Exit Study?